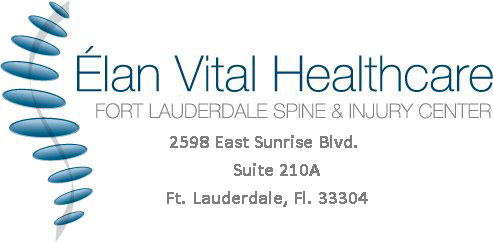 Located at the Galleria Mall in the Regus Executive Office Complex
Our unique practice model sets us apart from many other doctor's offices --
no long wait times, no rushed visits and no "assembly line" treatments.
​Experience the difference of our boutique, concierge style practice!
NO Insurance?




NO Problem!





Dr. Matrale is a member

of this




growing network of

healthcare professionals




who are dedicated to helping you get the




care you need at a fee you

can afford.




Click for

Info

Back pain? Neck pain? Need pain relief?


Don't suffer ...

Same Day Appointments Available -
Contact us ...


Patient Scheduling

:

754 301-8882




or email: ElanVitalHealth@aol.com

Our Fort Lauderdale Chiropractic care, spine and injury center strives to give each patient pain relief and keep them pain free without the use of pills or surgery. We will work to find and correct the cause of your pain and then work with each patient to design a care plan that fits their needs to maintain pain free good health naturally. Commonly known as a "back doctor" we are much more than that and...
Chiropractic Care provides




gentle

,

natural

and

effective

healthcare treatment for:



a Headaches
a Neck & Back Pain
a Allergies
aaBack pain due to pregnancy
aDisc Problems
aFrozen Shoulder
aSports Injuries
aScoliosis
aSciatica
aFibromyalgia aFatigue
aWorkmen's Comp
aCar Accident Injuries, whiplash & pain management
And more !


Car Accident?


I

f you have been involved in a

car

accident

or

work related injury

it is important to be examined as soon as possible to identify any potential injuries to receive the appropriate therapy and to document your injuries.

Dr. Matrale

, a Fort Lauderdale Chiropractor, has years of experience in

helping car accident patients reduce the long term effects of soft tissue & whiplash injuries.



Make Dr. Matrale your Fort Lauderdale Chiropractic "back doctor" choice for all your chiropractor wellness healthcare needs.




The ability to spend ample time with our patients combined with our expertise




gives you the

most beneficial form
of chiropractic care.







Holistic and Alternative Medicine combined with our full service chiropractor care and knowledge makes us the health care center for you to be
PAIN FREE!


Located at the Galleria Mall in the Regus Executive Office Complex




Serving Fort Lauderdale, Wilton Manors, Oakland Park, Coral Ridge, Victoria Park
and surrounding zip code areas 33304,33305

,

33308,33334

Ft. Lauderdale Chiropractic Care

/

Chiropractic Care

Physiotherapy

Electric Muscle Stimulation

Ice/Heat Therapy

Intersegmental Traction

Rehabilitation Therapy

Natural & Effective Pain Relief

Orthopedic Braces
Lumbar Supports/
Cervical Pillows & Other Products




/